SAVE TIME & MONEY SKIP THE CLINIC!

GUARANTEED TO RELIEVE PAIN
Tennis Elbow & Golfer's Elbow

Hurts Your Game, Job & Life
CAN'T PLAY YOUR BEST GAME

YOUR JOB IS PAINFUL

STRUGGLE WITH SIMPLE TASKS
Introducing
The Fiix Elbow
The world's first and only scientifically proven at-home treatment for tennis and golfer's elbow to heal the root cause so you can live your life free of pain.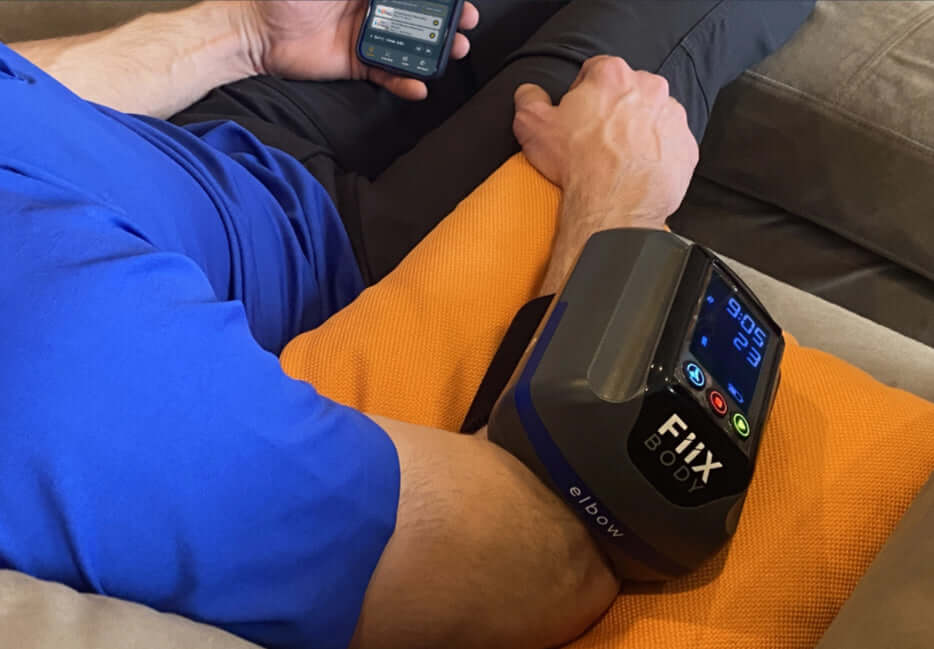 THERAPY ROBOT
The Fiix Body robot replicates the clinically proven process called scraping. Slide on the device, push play, sit back and enjoy a feel-good deep massage as it breaks up scar tissue and adhesions to naturally heal your damaged tendon.
Use the device 10 minutes/day three days/week - it's that simple.
NO appointments, NO waiting rooms, NO co-pays
The Fiix Body app is your guide to success. The app has videos to show you what to do, reminds you to complete therapy and shows your progress throughout the 8-week program.
Now you can finally complete physical therapy so you can get back to your favorite activities.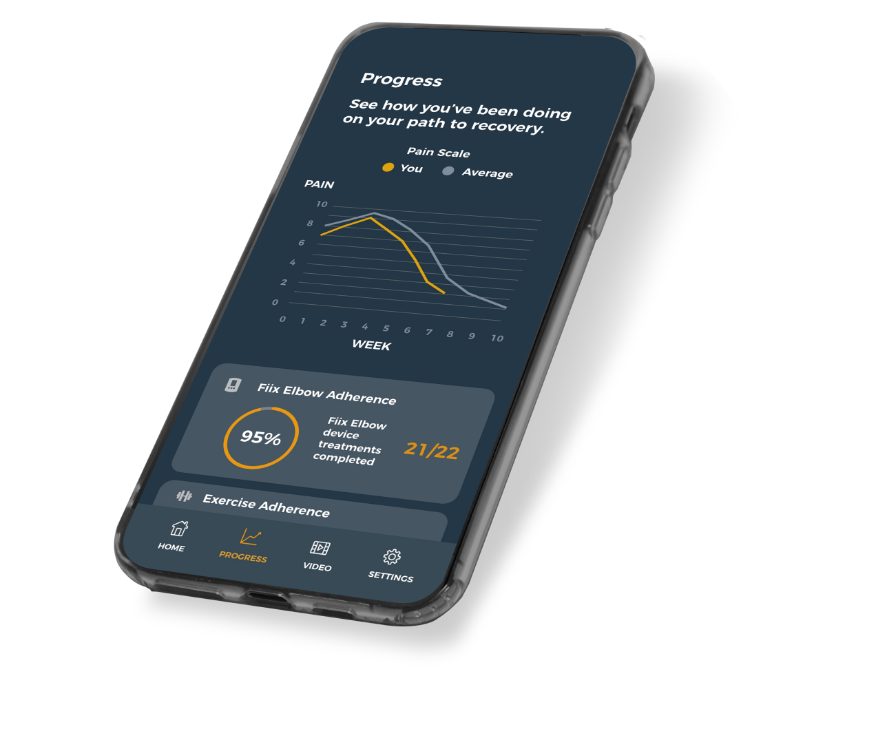 Designed by
Sports Physical Therapists
We were tired of patients having a difficult time making it to the clinic, so we are bringing the treatment to them
Mayo Clinic Graduate,
Former Dir of Rehab for MN Vikings
There are three challenges in solving tennis elbow & golfer's elbow at a PT clinic:
The therapist must be trained in elbow therapy and techniques for scraping or IASTM
Most PTs only see 2-3 cases of tennis & golfer's elbow per year, limiting their experience and best practices
The patient must follow through with the ENTIRE program. That includes 2-3 treatments / week for 8 to 18+ weeks
Scraping therapy has been shown to effectively stimulate natural healing in muscles and tendons. However, performing the therapy correctly requires proper training and multiple visits over several weeks, which can be challenging for individuals with busy schedules. Additionally, insurance limitations can pose another obstacle. To address these challenges, we created the Fiix Elbow, which reimagines the administration of scraping therapy and eliminates these struggles. The results have been remarkable.
Treat your
tennis elbow or golfer's elbow

at home
1

Buy the Fiix Elbow, download the app and start therapy when the device arrives.

2

Follow the easy two-part program utilizing your therapy robot and simple exercises. You can complete them anywhere, anytime during the day.

3

Keep doing your activities during your therapy and feel the pain decrease and your game increase.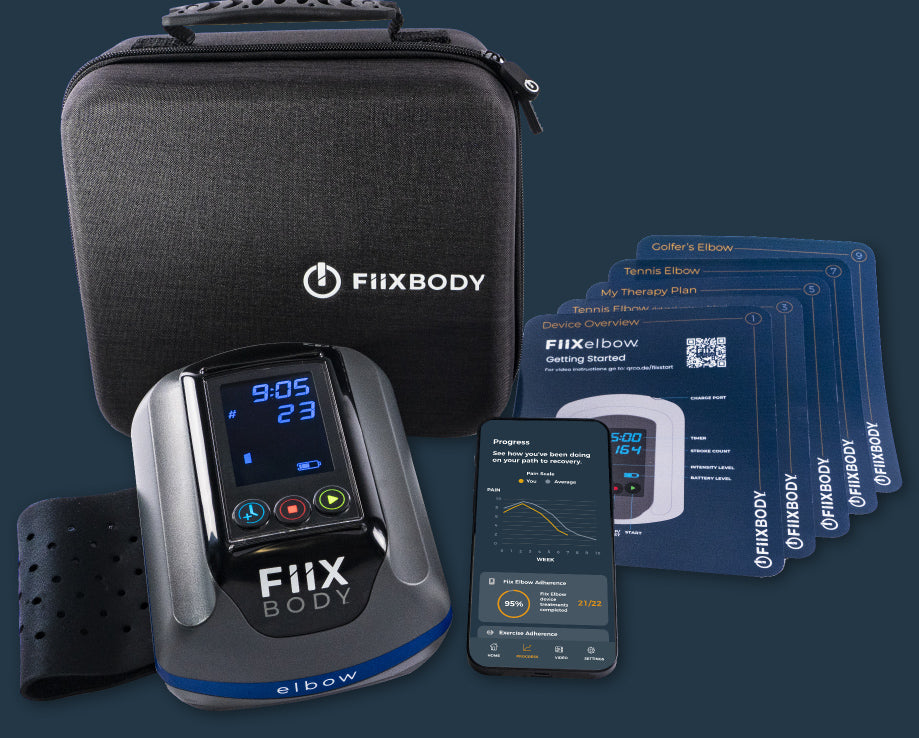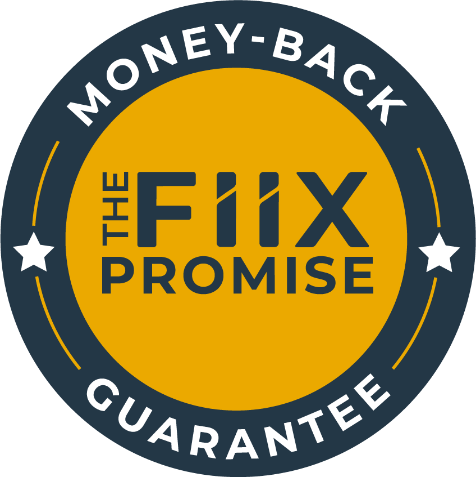 IF YOU DON'T LOVE IT AFTER 90 DAYS, SEND IT BACK. YOU GET YOUR MONEY BACK!
TRY THAT WITH YOUR THERAPIST
click to see the details
"Life is too short to spend time injured on the sidelines"
Resources to

treat tennis elbow & golfer's elbow
"The only thing that would make this program easier is if you came to my house and strapped the device on my arm"
Jim O, real Fiix Elbow customer
How does it fiix my tennis or golfer's elbow?

The Fiix Elbow uses patented technology to automate a linear deep tissue massage, a proven therapy method. Fiix Elbow Device helps release scar tissue, smooth fascia and connective tissue, and increase blood flow, helping your body to naturally heal the tendon and tissues that are responsible for your elbow pain.

Our app-driven, daily treatment plan is simple, straightforward, and requires just minutes per day from the comfort of your home. With our system, you don't need to wait in line for a weekly appointment. Instead, you'll be able to track your progress and get daily, measurable results far beyond what is possible in a traditional clinic.
How do I use it?

The therapy program is simple, Fiix Elbow device sessions are 10 minutes, 3x a week. Daily exercises help aid in recovery and build back your strength and pliability.

Just put it on your arm and press play and it goes to work to break up the scar tissue that is causing the pain. Download the Fiix Elbow App that will tell you what to do, when to do it and you can watch your pain go away.
Do you have a money-back guarantee?

Yes, if it doesn't work for you for any reason we'll take it back.  All you have to do is fill out a return form, email us or give us a call and we'll process your return.
Can I use my FSA/HSA funds?

Yes, the Fiix Elbow is a FDA Registered Class I Medical Device. You can use your FSA/HSA card to process your order on our website or pay with your own card and submit your receipt for reimbursement.  FDA #D419638
Can I still participate in my activities?

Yes – you can still participate in the activities that may have cause the elbow pain as long as your pain is not greater than a 6 out of 10.  Also, do not increase the activity amount during the 8-week therapy program.
My elbow feels good after just a few weeks. Do I need to continue the therapy for the full 8 weeks?

Yes, the first few weeks of treatment break up adhesions and start the healing process. Your elbow will start to feel better but you need to strengthen the tendon to prevent further injury and to have a full recovery.